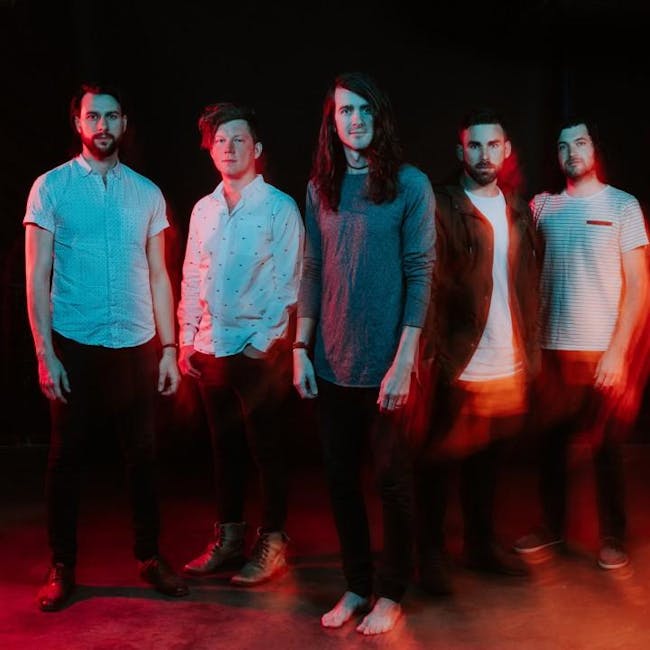 Mayday Parade
High Dive
Gainesville
,
FL
MAYDAY PARADE is coming to High Dive FRIDAY SEPTEMBER 18TH on their "IT IS WHAT IT IS" TOUR with special guests Grayscale / Point North!
Fri Sept 18th
MAYDAY PARADE
Grayscale
Point North
Doors 7PM / Show 8PM
EARLY ENTRY in Beer Garden 6:30PM! Doors inside show room at 7pm
$28 ADV / $32 DOS
The sixth studio album from Tallahassee-based rock band Mayday Parade, Sunnyland gets its title from an abandoned hospital where the band members used to sneak in to explore as teenagers. "The hospital shut down sometime in the mid-'80s but then it just stayed there for decades," says lead vocalist Derek Sanders. "It was a super-creepy place—it was overgrown with vines, and still had some of the hospital beds and IV stands—but we have all these good memories of hanging out there when we were younger."
The follow-up to their acclaimed 2015 album Black Lines, Sunnyland finds Mayday Parade both reflecting on the past and pushing toward the future. The band recorded the album with longtime producers Zack Odom and Kenneth Mount, and also teamed up with Grammy nominated producer John Feldmann (blink-182, Panic! At the Disco) and Howard Benson (Of Mice & Men, My Chemical Romance) for the very first time. The result is an album built on impassioned vocals, sing-along choruses, and deeply heartfelt lyrics.
From the album-opening "Never Sure"—a tortured love song driven by blistering riffs and pummeling drumbeats—Mayday Parade instill all of Sunnyland with unbridled energy. Whether they're taking on a folk-infused ballad like "Always Leaving" or channeling brutal punk fury into tracks like "If I Were You," the band sustains an undeniable intensity. While much of the album explores personal matters like loss and love (as on the stirringly romantic, piano-laced "Piece Of Your Heart"), songs such as "It's Hard to Be Religious When Certain People Are Never Incinerated By Bolts Of Lightning" emerge as an outward-looking burst of anger. "That song was written within months of Donald Trump being elected and came from feeling upset that something as horrible as that could happen," says Sanders. "But even though there's a lot of negativity on the song, there's still a hopeful chorus, because I think we need to try to stay hopeful." And to close out Sunnyland, Mayday Parade deliver the album's stripped-back title track, a melancholy midtempo number that unfolds with graceful acoustic guitar work, delicate harmonies, and subtly detailed storytelling.
Since making their debut with 2007's A Lesson in Romantics, the band has sold over 1.1 million albums, steadily amassing a worldwide following. Through the years, their chemistry has only gotten more potent, with all five members now contributing to the songwriting process (and coming up with upwards of 80 songs in the writing sessions for Sunnyland). "When we started this band most of us were still teenagers," notes Sanders. "We've obviously grown up and changed a whole lot since then, but through all that we've grown closer as friends and tighter as musicians. It's amazing and incredible that we're able to still do this, and we all definitely realize how lucky we are."
Having gotten their start selling their CDs in the parking lot of Vans Warped Tour, Mayday Parade have now headlined the tour five times, and will play the main stage again this summer for the tour's final run. For the band, each live show offers the chance to personally connect with the dedicated following they consider more like a family than a fanbase. And with the release of Sunnyland, Mayday Parade's mission is to continue strengthening that connection through their uncompromising honesty and boundless emotion. "There's a lot of sadness in these songs, but it's always a good thing to get those feelings out," says Sanders of Sunnyland. "So if there are people out there dealing with hard times, we hope our music can help them work through that, and come away feeling a little better about everything."
LINKS
https://open.spotify.com/artist/3WfJ1OtrWI7RViX9DMyEGy
http://instagram.com/maydayparadeband
http://facebook.com/maydayparade
http://twitter.com/maydayparade
http://youtube.com/MaydayParade
• 18 or over, unless accompanied by parent or legal guardian.
• NO SMOKING inside the venue.
• Smoking allowed outside in the Beer Garden!
• $3 under 21 fee charged at the door.
• All ticket sales are Non-Refundable unless the show is cancelled.
• All shows are general Admission Standing unless seating is specifically mentioned. Typical bar seating is available on first come, first serve basis.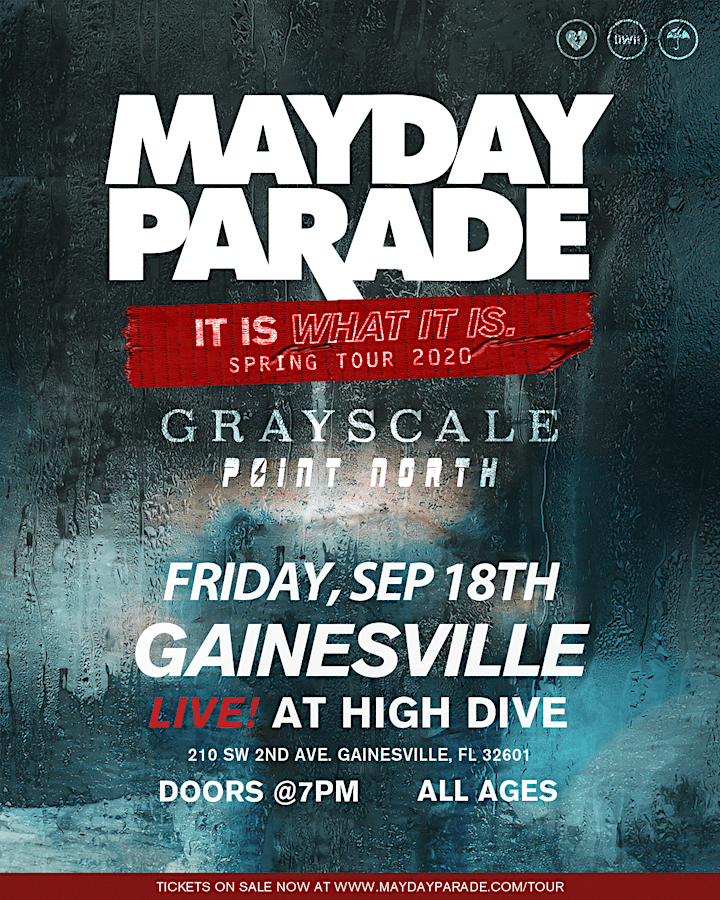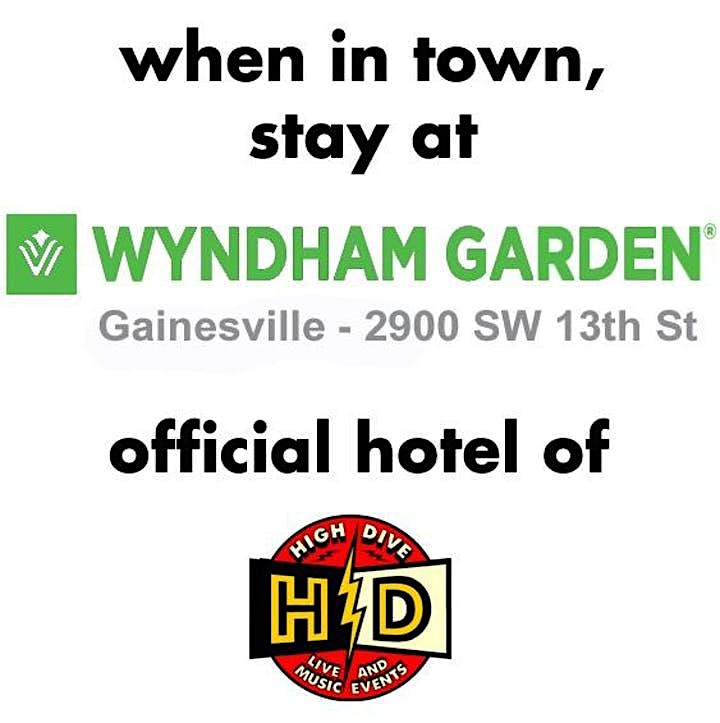 Venue Information:
High Dive
210 SW 2nd Ave
Suite A
Gainesville, FL, 32601