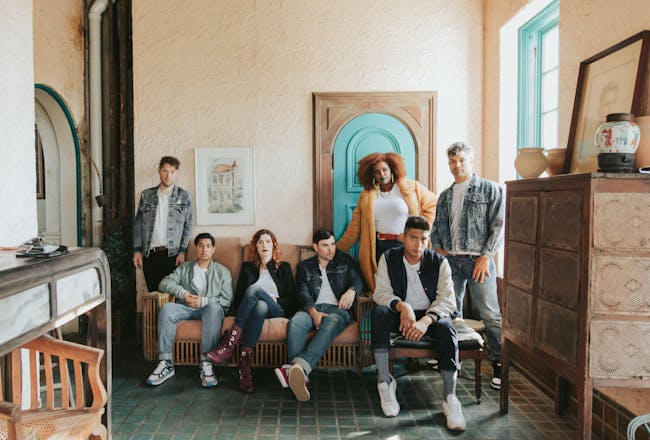 CANCELED - The Suffers, The Savants of Soul
High Dive
Gainesville
,
FL
This show has been canceled.
This show has been canceled. We can't wait to have them back again someday when it's safe. To insure live music comes back strong, please write Congress at saveourstages.com
-----------------------------------
Sun September 13th
THE SUFFERS
The Savants of Soul
Doors 7PM / Show 8PM - $12 ADV / $14 DOS
There is a contagious and combustible energy every time the eight-piece band The Suffers steps on the scene. NPR's Bob Boilen attributes the band's allure to their "Soul, straight from horn to heart." He adds, "This band is on fire when it's in front of an audience...but the intensity of their shows are also captured in the studio." Following The Suffers' electrifying late night TV debut on Letterman in 2015, David Letterman exclaimed, "If you can't do this, get out of the business!" There is something undeniable about The Suffers (whose name is a reference to the 1978 Jamaican film Rockers starring Leroy "Horsemouth" Wallace, Jacob Miller and Burning Spear, among others), that instantly hits home with their audiences. "We make music for all people," says lead vocalist Kam Franklin. "At this point, we've played all over the world and one thing is certain - if the music is good, the people will enjoy it." Since 2011, the H-Town heroes have been on a steady grind and have no plans of stopping.
The Suffers exploded onto the scene in 2015 with their dazzling EP Make Some Room, which was followed by their critically heralded self-titled debut in 2016. The Suffers' released their latest record Everything Here on Shanachie Records July 13, 2018. Everything Here is the band's most bold statement yet. Lead Singer Kam Franklin states, "Our hope is that our fans walk away feeling empowered, resilient, and inspired to live a better life."
Guitarist Kevin Bernier says, "Everything Here, as a whole, explores the many aspects of who we are as people through songs. We've had crushes on people, we've had our hearts broken, and we've moved through all the difficult times so that we can experience the joyful moments." The Suffers have got everything you need and there's no need to look further - a heaping dose of soul, a dash of reggae, a splash of jazz, a pinch of salsa, a hint of rock 'n' roll and a dollop of hip hop and funk - and that is just a few ingredients simmering inside their magical Gulf Coast soul.
"Houston has played a huge part in making me who I am and introducing our music to the masses, and for that, we are forever grateful." The Suffers have played sold out shows in Japan and Latin America, turned out audiences at the Newport Folk Festival and Afropunk Festival and made believers of just about anyone who has experienced their live shows. "We're a testament to teamwork and camaraderie resulting in things working out even when the odds are against a positive outcome," says drummer Nick Zamora. "The wonderful thing about music is that it is ultimate universal communication," reflects trumpeter Jon Durbin.
The band is working on their highly anticipated follow up to Everything Here, and will release new music in the Spring of 2020
LINKS
https://www.facebook.com/thesuffers/
https://twitter.com/TheSuffers
http://instagram.com/thesuffers
https://itunes.apple.com/us/album/make-some-room-ep/id957808174?uo=4
• 18 or over, unless accompanied by parent or legal guardian.
• NO SMOKING inside the venue.
• Smoking allowed outside in the Beer Garden!
• $3 under 21 fee charged at the door.
• All ticket sales are Non-Refundable unless the show is cancelled.
• All shows are general Admission Standing unless seating is specifically mentioned. Typical bar seating is available on first come, first serve basis.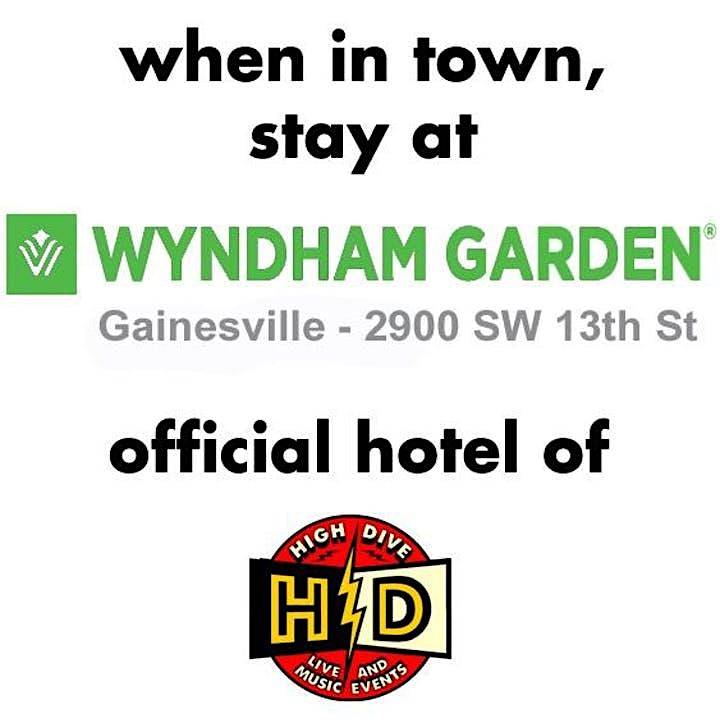 Venue Information:
High Dive
210 SW 2nd Ave
Suite A
Gainesville, FL, 32601