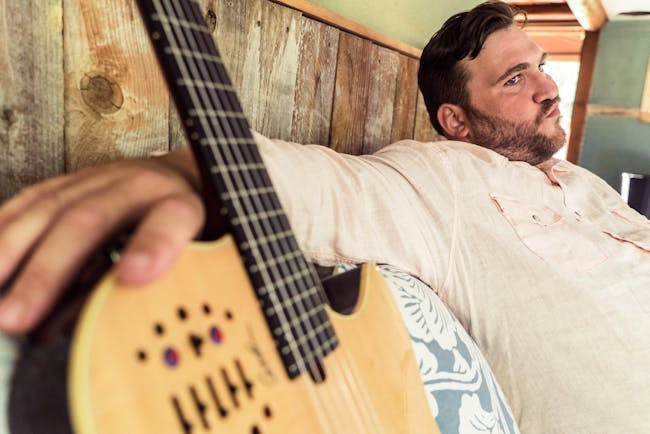 Zach Deputy
High Dive
Gainesville
,
FL
Zach Deputy returns to High Dive SUNDAY 12/6! In Person Show + Live Stream! Come watch it with us or from home at HighDiveGville.VEEPS.com
Glory Days Presents!
In Person Show + Live Stream!
Sun Dec 6th
ZACH DEPUTY
Maha & The Lions
Doors 8PM in the Beer Garden
Doors 8:30PM Inside / Show 9:00PM
$17 ADV / $20 DOS
Capacity will be limited to about 30%, fully seated and distanced in a checkerboard pattern with groups of 2, 3, and 4 seats. Single attendees sit on the bleachers.
We offer contactless ticketing in advance online or at the door. We expect many shows to sell out in advance due to capacity.
Live Stream tickets are available on a "pay what you want" scale at https://highdivegville.veeps.com/
Zach Deputy declared he would be a professional musician before ever purchasing his first guitar at the young age of thirteen. Given this, a career outside of music was never really an option for the naturally talented solo artist. First performing in public as a young teenager, Zach began receiving paid work as a singer by the age of sixteen. Starting in the Mid-2000s, Zach had already captivated audiences throughout the Southeastern United States with his singular solo performance. In 2008, he released his debut album Out of the Water, forming a name for himself as an unforgettable one-man-band live looping act. The album brilliantly showcased his unique blend of "island-infused, drum 'n' bass, gospel-ninja-soul." As a pioneer of looping and synth guitar work, Zach took the technology to uncharted lands through his one-of-a-kind pocket groove.
With a mission to create "a place where everyone feels welcome" and a proponent to create a sense of unity amongst the masses through music, Zach has achieved incredible feats for an artist of any genre. Notable accolades include four critically acclaimed albums, performances at revered venues such as The Fillmore in San Francisco alongside artists such as Karl Denson, and a write-up in The Wall Street Journal. Zach's introspective and uplifting songwriting evokes intense feelings of joy by shedding light on some of life's most challenging moments. Zach's music radiantly reflects his ingenious songwriting and musical gifts as he cheerfully sings songs from the heart and plays a diverse array of instruments. His eclectic songs are instilled with deep groove, intense passion, funky flair, and his signature dulcet sound. Zach is currently preparing to release his sixth studio album titled Roses through Regime Music Group, which will feature revered American standard "How Sweet It Is." The record brilliantly merges the Americana sound of today with the nostalgic magic of yesterday's sonic listening experience.
Touring throughout most of his career as a headlining one man show, Zach creates an unprecedented live experience. His thrilling live show showcases his raw and uncut vibe with absolutely nothing prerecorded. Combining his family roots island vibe with his low country southern soul, Zach's music emerges as a therapeutic experience that strives to remind people of the mere joy of being alive.
LINKS
https://www.facebook.com/zachdeputy/
https://www.instagram.com/zachdeputy/
https://www.youtube.com/user/zachdeputy
https://twitter.com/zachdeputy
https://soundcloud.com/zach-deputy
https://www.facebook.com/MahadevMusic/
https://www.instagram.com/Maha_and_the_lions/
www.growtwogether.wordpress.com
SHOW DETAILS
• 18 or over, unless accompanied by parent or legal guardian.
• NO SMOKING inside the venue.
• Smoking allowed outside in the Beer Garden!
• $3 under 21 fee charged at the door.
• All ticket sales are Non-Refundable unless the show is cancelled.
SAFETY GUIDELINES
• Temperature checks at the door. 99.4 is our limit. Those who exceed the max temp will be given a credit to a future show.
• Capacity will be limited to about 30%, fully seated and distanced in a checkerboard pattern with groups of 2, 3, and 4 seats. Single attendees sit on the bleachers.
• Masks will be required inside at ALL TIMES.
• Drinking and eating will only be allowed OUTSIDE in the Beer Garden so there is absolutely no reason to remove your mask inside! All outdoor bar service will be at tables only. The show will be viewable from outside via TV and stereo relay.
• Standing / dancing will be permitted inside but only if standing directly in front of your seat or going to the bathroom.
• All ticket sales will be contactless and in advance. We expect all shows to sell out due to the very limited capacity.
• An inherent risk of exposure to COVID-19 exists in any public place where people are present. By entering High Dive, patrons voluntarily assume all risks related to exposure to COVID-19.
Thank you for supporting our efforts to be safe and creative in order to bring your the best entertainment Gainesville has to offer.
Venue Information:
High Dive
210 SW 2nd Ave
Suite A
Gainesville, FL, 32601