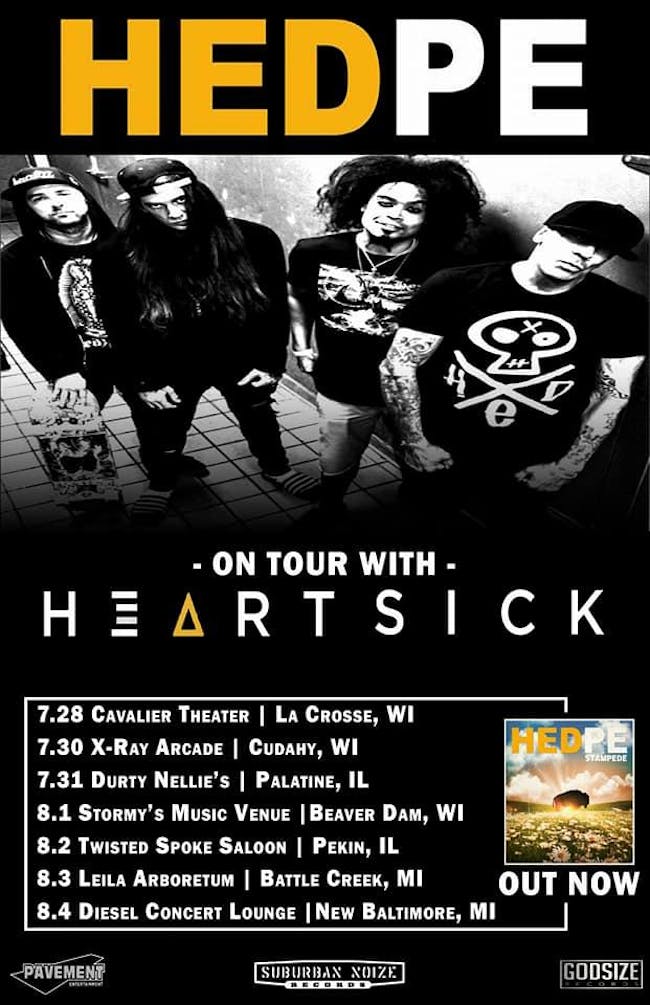 Hed PE, Shadow The Earth, Magg Dylan, The Everyday Losers, Modern Alchemy
High Dive
Gainesville
,
FL
$11.25 - $17.00
Tickets may be available at the door.
Hed PE at High Dive THURSDAY 1/30 with special guests Shadow the Earth / Magg Dylan / The Everyday Losers / Modern Alchemy!
Glory Days Presents!
Thu Jan 30
HED PE
Shadow the Earth
Magg Dylan
The Everyday Losers
Modern Alchemy
Doors 7PM / Show 7:30PM - $15 ADV / $17 DOS
https://www.facebook.com/hedpe/
Originally based in Huntington Beach, CA, (Hed) p.e. was founded in 1994 by frontman Jahred, whose goal was to fuse the region's long-standing punk rock heritage with G-funk-inflected hip-hop. He was shortly joined by bassist Mark who has remained alongside the band until present day. The line up is currently rounded out by guitarist Jaxon and drummer Trauma.
(Hed)p.e was snatched up by Jive Records early in its career, but it wasn't until the year 2000 when they released the album "broke" that they received mainstream success. It was this album that solidified them as a mainstay in the rock and metal community.
(Hed)p.e. released its third album "Blackout" in 2003 which continues to be their most successful album to date. The group is infamous for changing the image and style of the band and music from release to release. Infusing moments of punk, metal, rap, reggae, and rock into their very eclectic yet precise sound.
Many have asked what the name (Hed) p.e. means and stands for. According to vocalist Jahred, "The name (Hed) p.e. is a name I came up with which basically means our consciousness is connected to the planet and the planet is evolving, therefore, we as her children, evolve with her. The "p.e." originally was defined as PLANETARY EVOLUTION, and sometimes morphs to PLANET EARTH and back, but both carry the same message, the (Hed) is the symbol for consciousness. WE ARE ON THE MOTHERSHIP!"
Despite many bands and peers from their genre, (Hed)p.e. has never taken a break from releasing albums and touring, which has enabled them to survive and meet with very strong independent success over the years. As a member that has been with the band from inception, bassist Mark attributes this to a passion for music and for playing in (Hed)p.e. for over 2 decades. "I moved from NewCastle England to pursue music in the United States and have never looked back." says Mark. "Our goal is to be a band that can connect with fans for decades to come, much like bands like the Rolling Stones have been able to do for over four generations of music."
Staying true to the (Hed)p.e. standard of change and growth both personally and musically, the new album "Evolution" takes the band back to their metal and underground roots they grew up on as kids. With tracks like "One More Body" and "No Tomorrow" holding down the metal and aggressive front, to the Led Zeppelin infused track "2 Many Games", this album delivers every style imaginable and even rounds the album out with three reggae inspired/infused album closers.
In a time when so many bands are playing it safe and going through the motions, whether it be out of fear of failure or lack of new ideas, (Hed)p.e. embraces change and "Evolves" with their greatest work to date.
SHOW DETAILS
• 18 or over, unless accompanied by parent/guardian.
• NO SMOKING inside the venue.
• Smoking allowed outside in the Beer Garden!
• $3 under 21 fee charged at the door.
• All ticket sales are Non-Refundable unless the show is cancelled.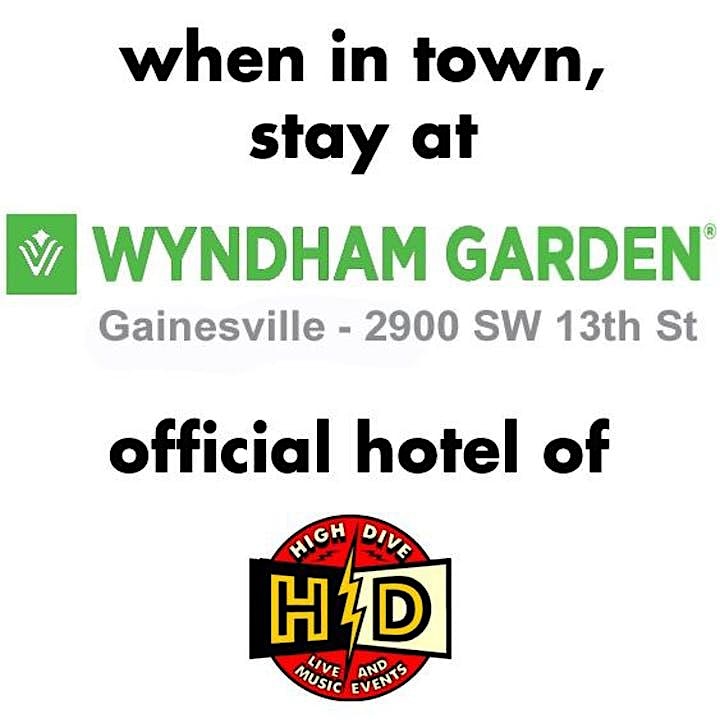 Venue Information:
High Dive
210 SW 2nd Ave
Suite A
Gainesville, FL, 32601